In this installment of Build and Brand, I want to highlight Chase Bays for their aesthetically pleasing, yet very functional performance products.
The Brand
Chase Bays, Inc. is a company out of Birmingham, Alabama that develops parts for a number of popular import vehicles, and have been in the game for over 13 years. Their target market ranges from car show enthusiasts to grassroots drivers, and all the way up to professional motorsports.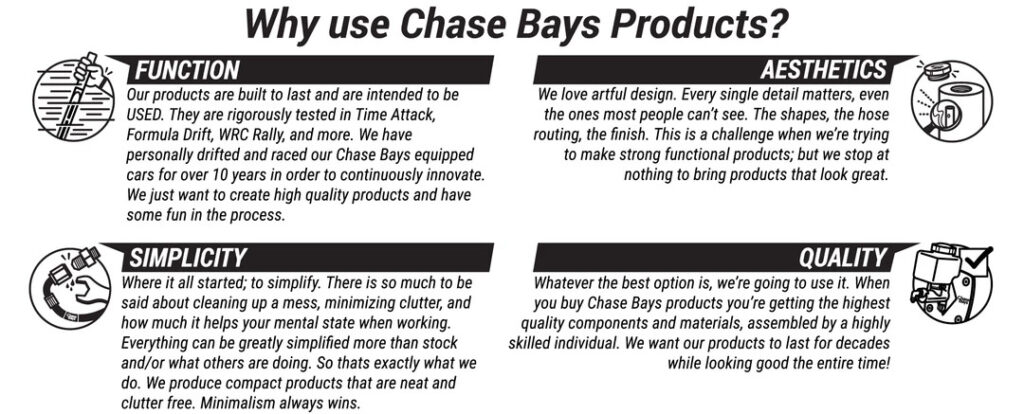 The Build – What I'm Running
For my current S13 build (The "Beater"), I pretty much got the whole shebang, in terms of in-bay items. It was a pretty penny, hence the quotation marks on beater, lol—all worth it in the end, though.
Pictured above, from left to right, we're rocking the following from Chase Bays:
Brake Booster Eliminator
Brake Line Relocation
Clutch Master Cylinder
Steering Rack Hard-Line Replacement
2 Way Brake Bias Valve
Fuel Line Kit
Clutch Line
Power Steering Kit
To see these bad boys mounted up, make sure to follow the Beater Build or hit that follow button on Instagram!
If you ask anyone, you'll quickly find that a big reason why people choose CB is to reduce clutter. What I love is that they actually put time into R&D to make their products functional and durable, while maintaining that OE look and feel. So, it's not just about that tucked, show finish—they're here for us O.C.D. types that need that extra touch of perfection in our builds.
If you're looking for functional products that offer a high level of aesthetic improvement by reducing unnecessary clutter, then Chase Bays should be at the top of your list.
Chase Bays Line-up
CB's pitch is "High-end Fluid Transfer Products", so you'll see a range of innovative parts in the drivetrain, braking, and engine departments.
Though CB makes parts for a number of import vehicles, at Chase Bays, you'll find beefed-up, well-thought-out versions of OE parts, with some badass upgrades in the mix…like their Comfort Grip Hydro Brake, or Dual Caliper Brackets
Unfortunately, there are too many parts to list here, so hit ChaseBays.com for more. Curious about response times and overall customer service vibe, then read on!
The CB Experience – Customer Service is on Point
So far, I haven't had any technical issues, reasons for a refund, or have to return any items. I have, however, put in an order before realizing that I already had one of the parts. Their sales team was quick to respond and remove the item before shipping the rest of my order. Soon after, the extra charge was removed from my card. So, you can expect ~24hr responses from the Chase Bays team, at least on non-technical questions.
For tech questions, I would expect more back and forth when getting help with installs and application compatibility. So, just try to be as thorough as possible when asking for technical help. One cool thing that they have on their site is a Q&A section at the bottom of each parts page, similar to what you see on Amazon.

This is super helpful, so check there first before hitting up the tech team, as someone has probably already asked a similar question.
Chase Bays Tech Resources
Looking for additional tech help? You're in luck! Aside from their YouTube channel, they've also put together some additional resources you might be interested in: